PhangLing.com was first originally known as "Cass Phang Theatre 97", opened on the 25th of August, 1997. The web site was located at the Hong Kong SchoolNet account of Amanda's classmate. The web site provided a simple Cass profile, news of Cass, and some various photos and sound clips. The web site was renamed to "Cass Phang Theatre 98" in 1998.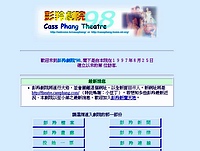 Above: Cass Phang Theatre, 1997-2000
Since September 1998, Amanda started schoollife in Bedford, UK. Amanda went back to Hong Kong in June 1999 and joined Cass House. After returning back to UK, Amanda had attempted to reconstruct the "Cass Phang Theatre" website. However, due to the lack of information on hand and academic pressure, the project was finally abandoned.
Below: The abandoned Cass Phang Theatre project, October 1999.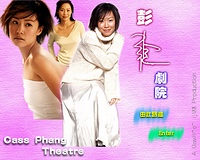 On the 29th of October, 1999, Amanda's Cass fan friend, Kenneth Lin, registered CassPhang.com. He then asked Amanda to help him developing the web site together. On the 13th of November, 1999, "The Global Cass Phang Network", aiming to create links of Cass Phang web sites all over the world, was released. At that time, Cass Phang Theatre was the member of that network.
Recently, the All-round Cass Phang web site PhangLing.com has been released. For the purpose of rearranging web site resources, Cass fans decided to develop CassPhang.com as the official Cass House web site. The role of CassPhang.com being "The Global Cass Phang Network" thus came to an end.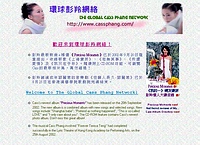 Above: The Global Cass Phang Network, 1999-2002

In summer 2000, Amanda completed A-Level, and bought loads of Cass's old albums during the stay in Hong Kong, providing a key foundation to the web site development later. In October 2000, Amanda entered University of Warwick. On the 17th of that month, Amanda registered the domain name Caspina.com. Amanda reform "Cass Phang Theatre" as "Theatre de Caspina" by implementing several simple pages which provided only several home-made wallpapers and screensavers, and immigrated this temporary version of the site into Caspina.com on the 20th of October.
Below: The temp. version of the Theatre de Caspina, which provided only wallpapers and screensavers, 2000-2002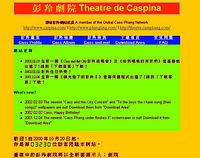 On the 7th of May, Amanda registered the domain name PhangLing.com. On the 24th of March 2002, Amanda bought the web-hosting services providing by PowWeb, which provide a much larger disk space with support on several server-side technologies such PHP and CGI etc. Amanda announced the project of reconstructing PhangLing.com as the All-round Cass Phang web site in the NCDD Creativity web site on that day.
With the assistance of good friends, after 5 years, Amanda finally completed all the pages of the new version of the Cass site and released PhangLing.com on the 24th of November 2002, in the Warwick University campus.